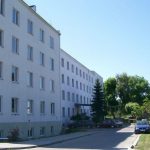 http://www.spzoz1belzyce.pl/ Samodzielny Publiczny Zakład Opieki Zdrowotnej Nr 1
Oddział Chirurgiczny Ogólny z Pododdziałem Intensywnej Opieki Pooperacyjnej
Description of the medical facility: 
The employed team of doctors (general surgery specialists) and nurses allows for professional assistance to patients who (treated in our ward) have 20 beds at their disposal, including two intensive care beds.
We perform laparoscopic procedures, we also have the ability to perform endoscopic examinations and procedures (including treatment of gastrointestinal bleeding, removal of polyps).
We treat venous inflammation and limb ischemia. We have an X-ray laboratory open 24 hours a day and an ultrasound laboratory.
Job description: 
Number of vacancies: 1

Ward: General Surgery with Postoperative Intensive Care Unit
Job requirements:
professional experience: minimum 3 years after specialization

specialization: general surgery

knowledge of the polish language at the communicative level
Working hours and system:
The employer offers:
period of employment: to be agreed

salary (gross): to be agreed

type of employment: to be agreed

assistance in finding accommodation

Polish language course

help in organizing school for children

help in finding a job for husband/wife

mentor's help